Guangzhou Classic Day Tour
Tour Code: HK-6
Tour Name: Guangzhou Classic Day Tour
Attractions: Sun Yat-sen Memorial Hall, Temple of Family Chen, Temple of Six Banyan Trees, Yuexiu Park (Five-Ram Statue)
Duration of the tour: 10 hours
Tour Itinerary: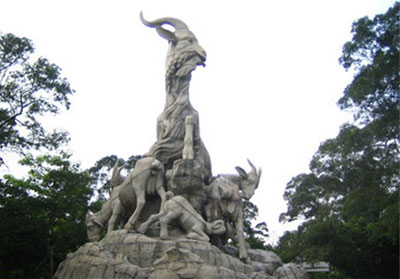 Our Hong Kong driver will pick you up at 07:00 in the hotel lobby, drive to Hung Hom Station, you will take train to Guangzhou by yourself. Our Guangzhou driver and guide will wait for you in the exit of train station with your name board. Visit Sun Yat-sen Memorial Hall, it's situated in the original site of Sun Yat-sen's Presidential Office on the southern slope of Yuexiu Hill, is a memorial building built in 1931 with the funds raised by the Guangzhou people and overseas Chinese in memory of Sun Yat-sen, the pioneer of China's bourgeois democratic revolution. Temple of Family Chen is famous for its exquisite craftsmanship including wood, stone, and brick carving, and metalwork using copper and iron. There are also wonderful murals. As for the carving techniques, both realistic and imaginative styles were employed to give the temple a magnificent yet solemn atmosphere. Temple of Six Banyan Trees is situated on Liurong Road, this world famous ancient Buddhist temple was built in 537 in the Liang dynasty during the Southern dynasties (386-581). More than 1460 years ago in the Liang dynasty, Emperor Liangwu ordered the master priest, Tanyu to built Baozhuangyan Temple to store the Buddhist bones brought from Kampuchea. During the Northern Song dynasty, a great writer - Su Shi, on a visit to this temple was attracted by the six banyan trees surrounding it and wrote the inscription "Liu Rong". Yuexiu Park is the largest park in downtown Guangzhou. Covering an area of 860,000 square meters (212.5 acres), it is made up of three artificial lakes and seven hills of Yuexiu Mountain; hence the name Yuexiu Park. The main places of interest include the stone sculpture of the Five Rams, Zhenhai Tower, the site of the Ming Dynasty City Wall, and Square Cannon Site. The Five-Ram Sculpture is one of the most famous structures in Guangzhou. It has become the emblem of the city. In the end, take ferry back to Hong Kong, and transfer to your hotel.
Tour Price: (Per person)
| | | | |
| --- | --- | --- | --- |
| 1 person | 2 persons | 3-4 persons | 5-9 persons |
| $600 | $300 | $200 | $160 |
Price including:
1. Private transfers;
2. English Speaking Guide Service;
3. All entrance fees;
4, Train Tickets from Hong Kong to Guangzhou;
5, Ferry Tickets from Guangzhou to Hong Kong.
Notes: Tour prices do not cover Guangzhou Visa fee if required.
China Package Tours including Hong Kong
Classic Package Tour

Duration: 13 Days
Destinations: Beijing, Xian, Shanghai, Guilin (Yangshuo), Guangzhou, Hong Kong

from $2000

Yangtze River Package Tour

Duration: 17 Days
Destinations: Beijing, Xian, Chongqing, Yichang, Shanghai, Guilin (Yangshuo), Guangzhou, Hong Kong

from $2800

Lhasa Package Tour

Duration: 19 Days
Destinations: Beijing, Lhasa, Xian, Shanghai, Guilin (Yangshuo), Guangzhou, Hong Kong

from $3200
HK Airport Transportation