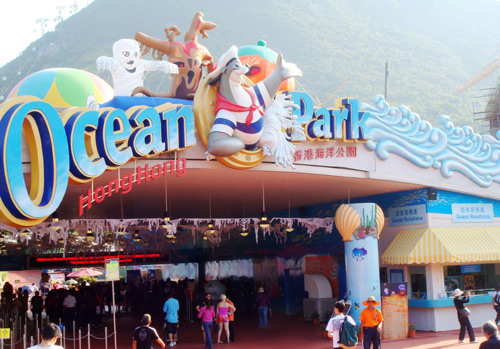 Hong Kong Ocean Park covers an area of ​​approximately 680,000 square meters, from the lowlands of Wong Chuk Hang and Nam Long Shan Peak Yamashita Park two parts, between 1.5 km cable car connection, known as Southeast Asia's largest marine park.
The park is divided into seven themed areas: parks to explore, green gardens, children's kingdom, Marine Land, Headland Rides, Adventure Land, bird paradise. A variety of static exhibition and exciting rides combine memorable.
Park Hours: 10:30 - 18:30
Summit close : 18:00
Car Park : 09:00 to 30 minutes after the park is closed
Theatre Show Schedule:
Amazing Bird Theatre :
Emperors of The Sky 11:00, 13:30, 15:30, 17:00;
Macaw, Eagle Owl and Crane are among the birds that star in this aerial show about conservations.
Ocean Theatre :
Ocean Wonders 12:00, 14:00, 15:30, 17:00;
In accord with Park's conservation goals, the Ocean Theatre plays host to a captivating new presentation that underscores the urgent need to protect our oceans and marine animals! Visitors will discover the true treasures of the sea. 
Waterfront Plaza:
SkyFair Celebrations 11:30, 13:00, 15:00, 18:00;
A team of Balloonatics and Aviators explode across the sky in an exclusive acrobatic performance!
Whiskers Theatre :
Ocean Heroes 13:00, 15:00, 17:30;
Take a buddy undersea journey with Whiskers to meet Ocean Park's iconic animal mascots and learn about ocean conservation! This interactive pageant invites audiences to get up and move along with songs and dances! 
Sea Lion Fun Time Show 12:00, 14:00, 16:15;
A drama that reveals "a day in the life" of sea lions and how they prepare for their show.
Trainer's Talk:
The Summit :
North Pole Encounter 11:15, 13:30, 16:30;
Come and learn about snowy owls and spotted seals and their habitat. Together, brainstorm ways to mitigate climate change.
Pacific Pier 14:30;
Can you tell the differences between seals and sea lions? What do they eat? Come and have a look!
The Waterfront :
Panda Village - Otter 11:45, 16:45;
Animal Fun Talk Schedule:
Grand Aquarium :
Touch Pool 10:30 - 16:30;
Come and touch the interesting creatures like sea stars and sea cucumbers, and get to know more about the relationship between humans and the coastal environment.
Polar Adventure:
North Pole Encounter 11:30, 13:45, 16:45;
How does our daily life affect the Arctic animals? Meet our Arctic animal ambassadors and find out how we can protect them.
South Pole Spectacular 14:30, 15:00, 15:30;
Visit the home of penguins, find out the differences between each species and learn how these amazing birds survive in the Polar region.
The Hong Kong Jockey Club Sichuan Treasures : 11:00, 13:15, 14:45;
In this exhibit, you will wonder at the interesting lifestyle of giant pandas and golden monkeys, and know why we need to conserve their natural environment!
Feeding Schedule:
Amazing Asian Animals :
Otter Feeding 14:15
Diving playful Asian small-clawed otters; learn more about these engaging acrobats!
Red Panda Feeding 12:00, 14:00, 17:00;
Red Panda feeds are bamboo, high fiber biscuits, fruits and vegetables. Trainers will present these to the Red Pandas at Giant Panda Adventure.
Hong Kong Jockey Club Sichuan Treasures :
Golden Monkey Feeding 11:15

Polar Adventure :
Northern Sealion Feeding 11:00, 14:15, 17:00;
Walrus Feeding 10:45, 14:00, 17:15;
Penguin Feeding 12:00, 15:30;
Ticket Prices:
| | | |
| --- | --- | --- |
| | Adult (aged 12 or above) | Child (aged 3-11) |
| General Admission | HKD320 | HKD160 |
Note:
1, Free admission is granted to children under 3-year-old and local senior residents, who is 65 years old or above with Hong Kong Identity Card or the "Senior Citizen Card" issued by Social Welfare Department. Holder of Registration Card for people with Disabilities and Hong Kong residents with Hong Kong Identity Card visiting on birthday are FREE to enter Ocean Park.
Hong Kong Ocean Park Transportation:
Citybus Route 629: The Citybus Route 629 runs daily from Admiralty MTR Station or Central (Star Ferry). The bus fares are $10.6 for adults and $5.3 for children (aged 4-11).
Route 629
Single Adult Fare
Service Hours
Admiralty (West) <-> Ocean Park (Main Entrance)
HKD10.6

From Admiralty
Daily 09:00 – 16:00   
From Ocean Park (Main Entrance) #
11:00 – 21:00

Central (Star Ferry) < -> Ocean Park (Main Entrance)
HKD10.6

From Central (Star Ferry) 
Daily 09:45, 10:05, 10:25, 10:45, 11:45, 12:45, 13:45, 14:45, 15:45
From Ocean Park (Main Entrance) #
Daily 12:00, 13:00, 14:00, 15:00

Ocean Park (Main Entrance) -> Central (Exchange Square)
HKD10.6

From Ocean Park (Main Entrance) #
Daily 16:00, 17:00, 18:00, 19:00
China Package Tours including Hong Kong
Classic Package Tour

Duration: 13 Days
Destinations: Beijing, Xian, Shanghai, Guilin (Yangshuo), Guangzhou, Hong Kong

from $2000

Yangtze River Package Tour

Duration: 17 Days
Destinations: Beijing, Xian, Chongqing, Yichang, Shanghai, Guilin (Yangshuo), Guangzhou, Hong Kong

from $2800

Lhasa Package Tour

Duration: 19 Days
Destinations: Beijing, Lhasa, Xian, Shanghai, Guilin (Yangshuo), Guangzhou, Hong Kong

from $3200
HK Airport Transportation