The Peninsula Hong Kong Hotel
The Peninsula Hong Kong Hotel
Tel: +852-29202888
Address: Salisbury Road, Tsim Sha Tsui, Kowloon, Hong Kong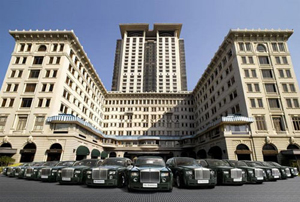 The Peninsula Hong Kong Hotel is located in Tsim Sha Tsui, Kowloon business district, facing the Victoria Harbour, Hong Kong Jiufu prestigious ultra-luxury hotel.
The Peninsula Hong Kong from December 11, 1928 opening date, stick to provide guests with excellent service tradition. Stately and elegant design rooms, equipped with fax machines, fax receiving in-room local and local calls are free.
The hotel's new rooms set elegant charm and style in a fashion, interior design details ingenuity, to create a comfortable home on the atmosphere, and equipped with advanced bedside and desk consoles, compatible utility and entertainment features, four fax, scan, print and copier treatment of public and private affairs so that guests can feel more satisfied.
The new wing of the hotel building and the old wing of the building was completed in May 2013, the new 300 rooms and suites to debut a new look to meet the Peninsula Hong Kong into 85 anniversary celebration.
The hotel also features a Roman-style swimming pool, The Peninsula Spa, fitness room, nine world-class restaurants, banquet halls, conference rooms and shopping malls. The hotel has 14 Rolls-Royce cars, two Mini Cooper S Clubmen and one pair of engine helicopter, offers guests luxurious and efficient shuttle service, so you can enjoy the noble imperial experience.
If you need book The Peninsula Hong Kong Hotel with free airport transfer, please contact us by Email Hongkongtransfer@gmail.com !!
China Package Tours including Hong Kong
Classic Package Tour

Duration: 13 Days
Destinations: Beijing, Xian, Shanghai, Guilin (Yangshuo), Guangzhou, Hong Kong

from $2000

Yangtze River Package Tour

Duration: 17 Days
Destinations: Beijing, Xian, Chongqing, Yichang, Shanghai, Guilin (Yangshuo), Guangzhou, Hong Kong

from $2800

Lhasa Package Tour

Duration: 19 Days
Destinations: Beijing, Lhasa, Xian, Shanghai, Guilin (Yangshuo), Guangzhou, Hong Kong

from $3200
HK Airport Transportation