Holiday Inn Golden Mile Hong Kong Kowloon
Holiday Inn Golden Mile Hong Kong Kowloon
Tel: +852- 23693111
Address: No.50 Nathan Rd, Tsimshatsui, Hong Kong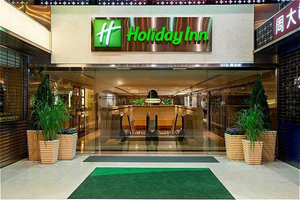 Holiday Inn Golden Mile Hong Kong Kowloon is located at the junction of Nathan Road, Tsim Sha Tsui and is located in the bustling commercial and entertainment center, close to the subway station and bus stops; from the Star Ferry, ferry trip is only five minutes away from Chek Lap Kok International airport is about 45 minutes drive from the location.
Holiday Inn Golden Mile (Holiday Inn Golden Mile) has a variety of comfortable and elegant rooms, an ad hoc executive floor, offers free wireless Internet access. The hotel offers three specialty restaurants, a new breed of Dragon Chinese Restaurant offers Cantonese cuisine and dim sum; Osteria offers traditional Italian dishes; at Bistro on the Mile both small reward bustling downtown views while tasting in the West, Japan and India Thai food taste blend brings surprises.
In addition, Regency style grand hall and the Crystal Ballroom, which can accommodate ten to seven hundred guests; Charade it unique live band, Jade Hall is the ideal place to hold small meetings or gatherings.
If you need book Holiday Inn Golden Mile Hong Kong Kowloon with free airport transfer, please contact us by Email Hongkongtransfer@gmail.com !!
China Package Tours including Hong Kong
Classic Package Tour

Duration: 13 Days
Destinations: Beijing, Xian, Shanghai, Guilin (Yangshuo), Guangzhou, Hong Kong

from $2000

Yangtze River Package Tour

Duration: 17 Days
Destinations: Beijing, Xian, Chongqing, Yichang, Shanghai, Guilin (Yangshuo), Guangzhou, Hong Kong

from $2800

Lhasa Package Tour

Duration: 19 Days
Destinations: Beijing, Lhasa, Xian, Shanghai, Guilin (Yangshuo), Guangzhou, Hong Kong

from $3200
HK Airport Transportation