Altitude of 552 meters of Victoria Peak is the highest point on Hong Kong Island, Hong Kong Island, overlooking the whole picture during the day, night, night view of Hong Kong may be overlooking one of the world's three night, feeling glowing pearl of oriental charm. The Peak Lookout, Hong Kong is also the most classic and most famous tourism projects.
It is said that before the mountains, must be approved by the Governor, and the only sedan chair or walking up the hill. Now the best way to go is to take the Peak Peak Tram to the Peak. The Peak Tram from 1888 began carrying passengers up. The bottom of the Peak Tower is Tram Terminus, which has a variety of shops and dining options, where you can take a look back to Hong Kong time roaming the old clips motorized trains, super dynamic theater can feel the realism of virtual reality, and in the quaint museum can Interesting to visit more than 500 pieces of exhibits.
Tower observation deck at the top of the bowl-shaped design, can be seen near the center of Hong Kong Island Central, Ocean Terminal, HSBC Main Building, Bank of China Tower, Hong Kong Convention and Exhibition Centre, Kowloon, overlooking the island is also the Western Harbour Crossing , Star Ferry, Hong Kong Cultural Centre and the former Kai Tak Airport.
Peak Genei has three fairly well-known restaurants, namely Deco restaurant, Shooter52 and Ovenpick Marche Restaurant. Deco restaurant serves international cuisine dishes and foreign dishes hodgepodge, where you can dine while enjoying the scenery on both sides of Victoria Harbour; Shooter52 is an American restaurant and bar, with chunks of steak, potatoes and onion rings famous; Ovenpick Marche Restaurant is is authentic restaurant, the evening buffet between supply, as well as children's games.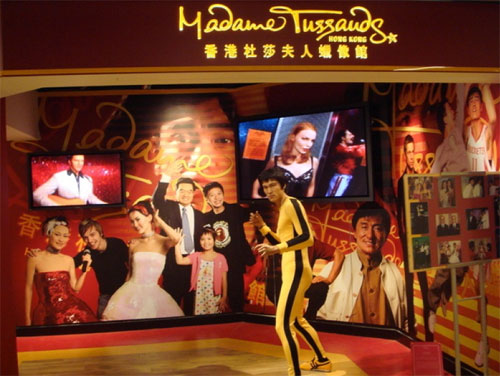 Hong Kong Madame Tussauds:
Madame Tussaud's in London, founded in 1835, with lifelike wax figures of famous celebrities. Whether it is political giants, industry celebrities, or film star, singer King, Madame Tussauds be Lunduidusuo "checked", will be considered the glory of life. Madame Tussauds Hong Kong Peak Tower is located on the second floor, the wax museum has seven themes: movie world, sports star, celebrity party, great hall, Extreme Music, House of Terror and wax workshop featuring hundreds of well-known figures wax statue , role across all times, many people are familiar with the great man and the world are shaping the star Tussauds lifelike. Madame Tussauds Hong Kong, the biggest feature is the addition of a lot of Asian people, celebrities such as Li Ka-shing, Hong Kong, Jackie Chan, Michelle Yeoh, Bruce Lee.
Visit Time: 05:40 - 01:00+1
Transportation:
Central Peak Tram Terminus is located in Central, 33 Garden Road, Central. Free sightseeing buses between City Hall and the Star Ferry to the Peak Tram Station; Admiralty MTR station or take bus No. 12S, fares HKD2.5; also has 15 double-decker bus from Exchange Square Bus Station, and convenient way to transport gold Chung MTR station, along the steep winding road to the summit, fares HKD9.2.
Peak Tram and Madame Tussauds Package Tickets: HKD185 for Adults, HKD95 for child and old people.
Ticket Office: Garden Road Peak Tram Terminus.
Ticket Office Service Time: 09:00 - 21:30.
Peak Tram Service Hours: 07:00 - 24:00, Interval: 10 - 15 minutes;
Madame Tussauds Open Hours: 10:00 - 22:00, No admission after 21:45;
Note:
1. To choose the right seat when the mountains, in order to have a better view of the surrounding landscape viewing.
2. Suggested the bus up the hill, take the cable car down the mountain, so to get more experience. There are a lot of winding roads lined with grand mansions, and more expensive, more hill price.
China Package Tours including Hong Kong
Classic Package Tour

Duration: 13 Days
Destinations: Beijing, Xian, Shanghai, Guilin (Yangshuo), Guangzhou, Hong Kong

from $2000

Yangtze River Package Tour

Duration: 17 Days
Destinations: Beijing, Xian, Chongqing, Yichang, Shanghai, Guilin (Yangshuo), Guangzhou, Hong Kong

from $2800

Lhasa Package Tour

Duration: 19 Days
Destinations: Beijing, Lhasa, Xian, Shanghai, Guilin (Yangshuo), Guangzhou, Hong Kong

from $3200
HK Airport Transportation