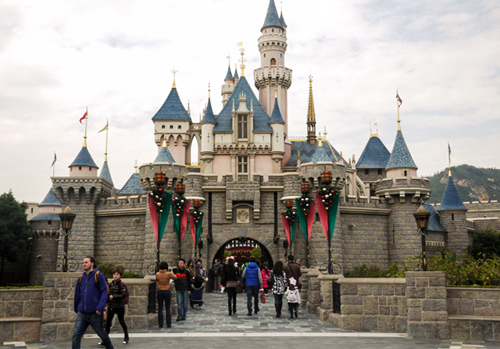 Hong Kong Disneyland is the fifth Disney theme park in the world, it's located on Lantau Island, surrounded by mountains, and the distance across the South China Sea, is a financial Disneyland in California and other featured as one of the Disneyland theme park. Here both the original spirit of Disney, and in order to meet the regional requirements, joined the oriental elements.
Hong Kong Disneyland includes seven theme parks: Main street USA, Fantasyland, Adventureland, Tomorrowland, Toy Story Land, Grizzly Gulch, Mystic Point. Grizzly Gulch and Mystic Point are unique in the world. Theme park features rides, entertainment, interactive experience, catering services, merchandise shops and kiosks. In addition, more presents Paradise Parade and fireworks show every day. Each theme park visitors can give endless wonderful experience. In addition to the numerous recreational facilities, there also have two unique accommodations, it also will not be missed pilgrimage for all visitors who love Disney World.
Park Hours: 10:00 - 20:00
Parade and Firework Times:
Flights of Fantasy Parade: 15:50, Begins in Fantasyland, near the entrance of Storybook Theatre;
"Disney in the Stars" Fireworks: 20:00, Sleeping Beauty Castle (Suggested viewing location: Main Street, U.S.A.)
Stage Shows:
Adventureland "Festival of the Lion King": 12:00, 14:00, 16:30, 18:00, If you would like to watch the show with Simplified Chinese subtitles, please be seated at the last 6 rows.
Fantasyland "The Golden Mickeys" : 12:30, 13:45, 16:00, 17:00, 18:15, Shows do fill up. Arrive at least 45 minutes prior to show times.
Tomorrowland "Stitch Encounter": Please check for show times in your preferred language (in Cantonese/ in Putonghua or in English) at the attraction entrance.
Character Greeting Times:
( Characters appear occasionally at the following locations)
Main Street, U.S.A: Town Square 10:00-11:30;
Fantasyland: Fantasy Gardens 12:00-18:30, Sleeping Beauty Castle 10:00-17:30;
Toy Story Land: 10:30-18:00;
Tomorrowland: 10:30-18:00;
Grizzly Gulch: 10:30-18:00;
Ticket Types and Prices:
Ticket Type
General Admission Ticket
(aged 12-64)
Child Ticket
(aged 3-11)
Senior Ticket
(aged 65 or above)
1-Day ticket
HKD450
HKD320
HKD100
2-Day ticket
HKD585
HKD415
HKD170
Note:
1, Free admission for Child aged under 3;
2, 2-Day Tickets are valid on any 2 days within a 7-day period, except Designated Days. First visit must be on or before the last day of the validity period printed on the back of the ticket.
Hong Kong Disneyland Transportation:
See a Hong Kong Disneyland Resort Map
1. MTR Disneyland Resort Line: Travel on the railway network of MTR and interchange for the Disneyland Resort Line atSunny Bay Station. The conveniently located Disneyland Resort Station is your gateway into the magic.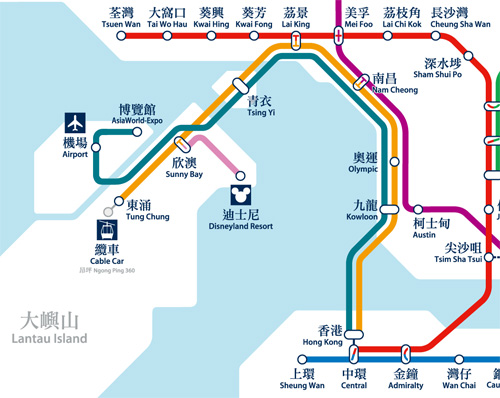 Operating Hours between Sunny Bay and Disneyland Resort Station
From Sunny Bay: from 6:15am - 12:45am the following day 
From Disneyland Resort Station: from 6:20am - 12:40am the following day 
Frequency
4 - 10 minutes 
2. Hong Kong Disneyland Shuttle Bus: Both Local and Cross-boundary shuttle buses are available to take you to and from Hong Kong Disneyland.
3.  Private Car or Tour Bus: Daily parking is available for private cars, motorcycles and tour buses. For the convenience of people with disabilities, people with a "Disabled Person's Parking Permit" can park their vehicles at the designated parking bays.
Capacity and Daily Rates:
| | | |
| --- | --- | --- |
| | Capacity | Daily Rates (HKD) |
| Private Car | 1100 spaces | HKD160 / day |
| Tour Bus | 290 spaces | HKD200 / day |
| Motorcycle | 50 spaces | HKD60 / day |
3. Hong Kong Disneyland Taxi: Three types of taxis - Urban taxis, New Territories taxis, Lantau taxis - provide transportation services to and from Hong Kong Disneyland. Operating areas and charges varies depending on taxi type. The cost is about HKD245 from Central to Hong Kong Disneyland.
Hong Kong Disneyland Hotels:
China Package Tours including Hong Kong
Classic Package Tour

Duration: 13 Days
Destinations: Beijing, Xian, Shanghai, Guilin (Yangshuo), Guangzhou, Hong Kong

from $2000

Yangtze River Package Tour

Duration: 17 Days
Destinations: Beijing, Xian, Chongqing, Yichang, Shanghai, Guilin (Yangshuo), Guangzhou, Hong Kong

from $2800

Lhasa Package Tour

Duration: 19 Days
Destinations: Beijing, Lhasa, Xian, Shanghai, Guilin (Yangshuo), Guangzhou, Hong Kong

from $3200
HK Airport Transportation