Hong Kong Avenue of Stars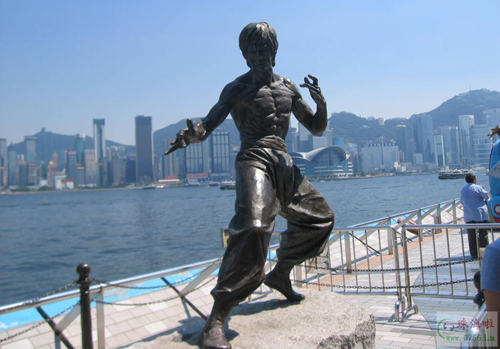 Avenue of Stars in Tsim Sha Tsui East, Kowloon originally promenade modeled after the Hollywood Walk of Fame designed to transform it is to introduce Hong Kong film industry and its achievements in the history of the theme of the Avenue of Stars. Extending from the side to the World Centre outside Hong Kong Museum of length 440 m. Along with a description of the Hong Kong film history a century milestone, a number of movie themes boutique shops, and a number of handprints and signatures famous Hong Kong film star and director. Hong Kong's highly respected veteran filmmaker Dillon, Chu Yuan, Tse Yin, Hong Kong films of contemporary international master John Woo, Tsui Hark, Sammo Hung, huge stars Michelle Yeoh, Andy Lau, Jackie Chan, are here left their handprints.
November 27, 2015, a bronze statue of martial arts star Bruce Lee in Hong Kong Avenue of Stars are unveiled. 2 meters high bronze statue, according to the movie "Enter the Dragon" shape and is made to commemorate the birthday of Bruce Lee 65 years old.
Walk of Fame, in addition to viewing the many celebrity handprints, enjoy the beautiful scenery of Victoria Harbour and Hong Kong Island Coast architectural features, but also to enjoy the multimedia light and sound show --- Symphony of Lights. 20:00 every day, 18 major buildings along the coast of Hong Kong Island, the bright lights lit one by one, with the laser dancing, accompanied by sound effects and narration, showing Hong Kong's bustling style.
Transportation:
1. Tsim Sha Tsui MTR Exit F, pedestrian tunnel to Kowloon Tsim Sha Tsui Station Exit J, and follow the signs to go.
2. Sitting days after the Tsim Sha Tsui Star Ferry landing, walk about 10 minutes to that.
China Package Tours including Hong Kong
Classic Package Tour

Duration: 13 Days
Destinations: Beijing, Xian, Shanghai, Guilin (Yangshuo), Guangzhou, Hong Kong

from $2000

Yangtze River Package Tour

Duration: 17 Days
Destinations: Beijing, Xian, Chongqing, Yichang, Shanghai, Guilin (Yangshuo), Guangzhou, Hong Kong

from $2800

Lhasa Package Tour

Duration: 19 Days
Destinations: Beijing, Lhasa, Xian, Shanghai, Guilin (Yangshuo), Guangzhou, Hong Kong

from $3200
HK Airport Transportation